Get to know me
I send weeklyish emails of a somewhat vulnerable nature of what I'm working on in life, love,  and livelihood. I also have a growing list of pen pals.
If you'd like to get emails, enter your details below. If you want handwritten letters, drop a postcard in the mail to PO Box 1032 Kailua HI 96734.
A woman's womb is the center of her creativity and power. If you're a woman over 35 who wants to feel good in your body without dieting and deprivation or wants to conceive naturally, you're in the right place. 
Healthy is a journey, not a destination. Much of how we've been conditioned to think about food and healthy living revolves around dieting, deprivation, and willpower.
There's a ton of information out there about what healthy living is and how to get there, a lot of it is confusing, and what's worse, it's changing all the time! This is why I try my best not to attach to any one way of thinking and being about health, but instead choose timeless information that anybody, anywhere, can apply to their lives.
That's why I've created this guide to support women where they are in their lives. What you'll see below are my tried and true go-tos for reclaiming your health, creativity, and vitality so that you can feel good in your body and become the happiest, healthiest version of yourself.
Disclosure: These are products and services I use in my own life, and I may receive a commission on sales made through these links. 
Disclaimer: The resources shared below are for education and information purposes, and is not intended to diagnose, treat, or cure illness or disease, or replace the advice of a licensed healthcare professional. Please exercise personal wisdom and discretion. 
Clarify Your Purpose

Living healthy and well is more than just diet and exercise, so I invite my clients to think about their vision for their whole life, instead of just focusing on what to eat and  what kind of exercise will help them burn the most calories.
One of the best tools I've seen and used are The Fire Starter Sessions, 16 self-guided audio sessions and worksheets created by Danielle LaPorte that will help you clarify and map out your own version of success.
When you're clear on what you want, you can tune out the distractions and create the environment you need to help you move forward. A healthier body is as much about the quality of your relationships, your home environment, your job, your creativity, and your spiritual practice, because how you show up in these areas directly influences and impacts your food choices and self-care practices.
You may also be interested in [amazon_link asins='0736938567,0736956751,0736970967,0736939318,1400073367′ template='ProductCarousel' store='wwwhoneybeewe-20′ marketplace='US' link_id='43ffe210-78ca-11e8-867e-e5be8d5e2406′]
Danielle LaPorte Inc. has no affiliation with my website or any of the products, services or bonuses listed here. Danielle LaPorte has not reviewed or approved any of the materials I offer and if you have any grievances please address them with me directly.
Prioritize Your Self-Care
Self-care is fast becoming an overused phrase, but it's essential that women make the time to nourish, rest, recover, retreat, and revitalize.  Self-care will look different for each woman depending on where she is in her life, but every woman can benefit from setting clear boundaries around their time and energy,  getting enough sleep and downtime, asking for and receiving help in the way of mental, emotional, and physical support, eating well and moving their bodies, and making time for their hobbies and dreams outside of family, relationship, and work responsibilities.
Own Your Glow
and Mama Glow
are my go-to books for women who ready to uplevel and nourish their lives.  Own Your Glow is for the woman who wants to create a lifestyle of health and self-care, while Mama Glow supports women who want to experience a healthy and happy pregnancy.
Both guides offer an holistic and feminine approach to wellness in a way that is accessible and actionable.
You may also be interested in The Four Agreements
.
Ditch the Diet
A diet should consist of foods that nourish and heal as well as taste good, but there's no one-size-fits-all solution. And when I say diet, I don't mean something you do over a period of time to achieve an unrealistic ideal. I mean foods you eat over time, which may change depending on the season and the developmental stage you're in, and/or specific attention you need to give to a health concern.
If you can't spend time with friends and family, go on vacation, or even pop into the office breakroom without agonizing over food, you're not living!
I don't coach women around weight loss, but If you'd like support with releasing excess weight, I invite you to check out Expert Support for Hormone Health
Many women start weight loss programs that ask them to cut out major food groups or engage in high intensity workouts and still don't get the results they want. Or they get immediate results only to put the weight back on plus more in a year or less.
When this happens, it's most likely due to the diet being unsustainable, meaning too strict or unmanageable for your lifestyle. Sometimes it's due to hormonal imbalances triggered by stress, food sensitivities, nutrient deficiencies, and gut health.
You may also be interested in The Hormone Cure
, The Hormone Reset Diet
,The Body Ecology Diet
, Happy Healthy Thyroid
and Health is Wealth.
Heal Your Mother Wounds
The Mother Wound is the collective trauma of womanhood that's passed down through the generations from mother to daughter. It shows up as jealousy, comparison and competition between women, eating disorders and disordered eating disguised as dieting, low self-esteem, self-sabotage, and negative body image, strained relationships between mothers and daughters, shame around the body, sex, and sexuality, the inability to experience orgasm, fear of pleasure and intimacy, and a profound longing to belong shared by all women.
It is the unresolved pain of abuse, sexual assault, womb imbalances, miscarriage, and infertility. It is the wholesale denial of a woman's right to be fully self-expressed on her own terms. It is pervasive and insidious. But instead of talking about it and calling it out, we're pushing it further and further down into the shadows. And we know all too well what happens when you hide stuff there.
It also includes the trauma of living in a system of imperialist white supremacist capitalist patriarchy that has exploited the bodies, labor, and children of women, especially women of color. Women of color have the added burden of being oppressed by the social constructs of race and a color caste system on top of discrimination of gender, sex, and sexuality.
I first learned about the Mother Wound through the work of Bethany Webster, which you can explore by clicking here.
You may also be interested in When You and Your Mother Can't Be Friends
.
Connect deeply with your Feminine Side
Living in a patriarchal culture, women are heavily influenced by masculine energy and processes. Even though humans embody both masculine and feminine qualities, some of us are dominant in one expression more of the time over the other.
We already know how to live in the masculine (from the neck up, rational, linear thinking and movement, light), what would it look and feel like if we spent some time exploring life in the feminine (in the body, emotional, spiral thinking and movement, shadow)?
To tap into your feminine magic, I invite you to check out The Sensuality Project's Intro to Sensuality, Their Eyes Were Watching God
, Expanded Orgasm
, Mama Day
,  Women Who Run With The Wolves
, Mama Gena's School of Womanly Arts
, Wild Feminine
, Wild Creative
, Witch
, Women's Anatomy of Arousal
, Untame Yourself
, Warrior Goddess Training
, Unlocking The Queen Code
, Feminine Genius
, Tapping The Power Within
.
My favorite resources on women's health are Fertile Womb Lifestyle's 5 Tips for Period Pain Relief, Women's Bodies, Women's Wisdom
, [amazon_textlink asin='0345434862′ text='Sacred Woman' template='ProductLink' store='wwwhoneybeewe-20′ marketplace='US' link_id='5febef8a-78c8-11e8-af5f-5334f03c8ff4′], Wise Woman Herbal for the Childbearing Year
, Herbal Healing for Women ,Code Red
, Love Your Lady Landscape
.
For conception, pregnancy, and postpartum care, check out Expert Support for Your Fertility and Conception Support,  Honoring Our Cycles
, The Natural Pregnancy Book
, Mothering From Your Center
, The Fourth Trimester
.
Make Better Food Choices 
Good food choices begin with a well-stocked kitchen, basic cooking skills, investing in quality equipment that will last for years, and a way of preparing meals that fits your lifestyle.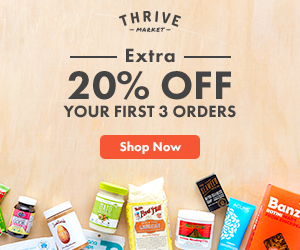 Thrive Market offers ease and convenience when it comes to grocery shopping.
Thrive Market carries the same brands you know and trust, at significant savings.
What's great about buying your pantry staples online with Thrive Market is that you can shop 24/7 and get home delivery.
Special offer: Click here to get 20% off your first three orders or click here to get an extra 25% + free shipping off your first order.
---
If you want to cook more at home but don't have the time to try and figure out what to eat every day, PlateJoy's meal planning service will take care of it all for you.
They offer customized meal plans for every dietary preference and cooking style, and in some states, you can even send your grocery list to a service for shopping and home delivery.
Are you living with or are at risk for Diabetes Type II? You may be able to get PlateJoy for free. Click here for details. 
If you love cooking and have amassed a collection of recipes on your Pinterest board, you're gonna love Plan to Eat. You simply copy and paste the link to the recipe you found online and Plan to Eat will take care of the rest.
You can also enter your own recipes manually.
From there, you'll be able to organize your recipes, generate a shopping list, and plan them on a calendar that you can share with others in the Plant To Eat network.
I learned about Plan to Eat from fellow Integrative Nutrition Health Coach Olivia Lane, who hosts a 21-Day Vegan Soup Challenge using Plan to Eat.
If you're looking to streamline your cooking time while also maximizing your nutrient intake, consider investing in a Blendtec.
With the Blendtec, you can make whole food juices, smoothies, soups, desserts, and more with minimal food waste and cleanup.
Live in Your Body
Movement is more than just a means to lose weight, it also helps regulate our hormones and blood pressure, increases our libido, maintains our mobility, flexibility, and endurance, and so much more.
A lot of women experience pelvic pain or pelvic misalignment and some may not even know it. Pelvic pain and misalignment can show up as menstrual cramps and discomfort during ovulation, anterior pelvic tilt (swayback), pain during and after sex, painful bowel movements, lower back pain, and even infertility.
If you're experiencing these symptoms, and especially if you are planning a pregnancy, I invite you to consult with a physical therapist who specializes in women's health / pelvic health. I learned so much about my own musculoskeletal health working with physical therapists and I highly recommend this underutilized but essential modality as part of your overall plan of care.
If you don't have access to a physical therapist who specializes in pelvic health you may be interested in Expert Support for Your Pelvic Pain Relief.
Movement should be fun and pleasurable, which is why I love HoopYogini. HoopYogini integrates Hula hooping with Hatha Yoga and Mindfulness Meditation. A strong core is essential to good posture and maintaining balance and harmony in our hips, pelvis, lower back, and abdomen. When we slouch or our core muscles are weak, we risk curving the spine unnaturally or shifting our rib cage, organs, and joints out of place. This can cause stress to the joints and pain over time.  As women, this misalignment can contribute to pain during our cycles and in pregnancy.
My HoopYogini practice reconnects me to both my inner child and my sensual nature, while also helping me become stronger and stable in my body.
You may also be interested in massage therapy, belly dancing and Pilates.
Nature is inherently feminine,
it's not a place that women have been socialized to embrace as necessary and vital to their well-being. In fact, most women have been conditioned to believe that nature is a scary and dangerous place, that they lack both the intuition and physical ability to endure and succeed in out the outdoors.
Myself and countless others are calling bullshit. Spending time in nature can help you disconnect from technology, invite you to slow down, recalibrate your body's rhythms, and take pleasure in the beauty of the environment. Check out REI Co-op's Force of Nature campaign.