Podcast: Play in new window | Download
Subscribe: RSS
In this episode, I share how I was able to eat for almost free from 2008 to 2015, along with some of the ways you can lower your food costs.
LocalHarvest.org is an online directory of family farms, community supported agriculture, and farmers markets.  Visit them to find local food resources in your area.
---
This episode is brought to you by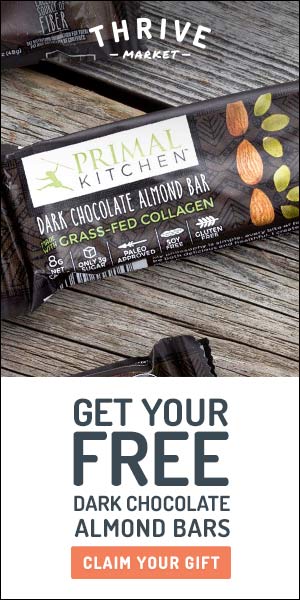 I've partnered with Thrive Market to help you save money on your groceries.
Making healthy decisions means being selective about the types of foods you eat and buy—but that can also mean multiple trips to different grocery stores just to keep your favorite products stocked. Not to mention the high markup on high-quality food brands!
There's a better way: Thrive Market takes the hassle out of healthy living so that organic food and natural products are accessible to everyone. It offers organic, nutritious foods and nontoxic home and personal care essentials at discounted prices—all delivered right to your door.
Here are just a few of the perks you can enjoy on Thrive Market:
All of your favorite brands shipped to your door—no multiple grocery trips necessary: Shop trusted brands like Tom's of Maine, Bob's Red Mill, Annie's Homegrown, Seventh Generation, Spectrum Naturals, and many more!
Find exactly what you need: The site and free app make it easy to shop by dietary need with specialized search filters, like "Paleo," "vegan," "raw," and "gluten-free."
Save money on top quality products: Find your favorite brands and health products offered at lower prices than in supermarkets and specialty health stores.
For a limited time, get a FREE 6-Pack of Organic Dark Chocolate Almond Bars with your first purchase!
---
Honeybee Wellness Club
Honeybee Wellness Club offers a 7-step practice for creating sustainable health and wellness without dieting, detoxing, and deprivation.
Annual Membership includes monthly group coaching calls, email support, resources, and more.
---
Green smoothies, Chocolate, and Bacon celebrates health at every size, and all that nourishes us, on and off the plate. Join Melissa Danielle, Integrative Nutrition Health Coach for courageous conversations on food, physical activity, work, and much more.
Join the conversation in the comments below or by joining me on Twitter @honeybholistic with one of these hashtags #ditchthediet #ditchthedetox.
Melissa Danielle is an Integrative Nutrition Health Coach, trained at Institute for Integrative Nutrition. Learn more at honeybeeholistic.info.